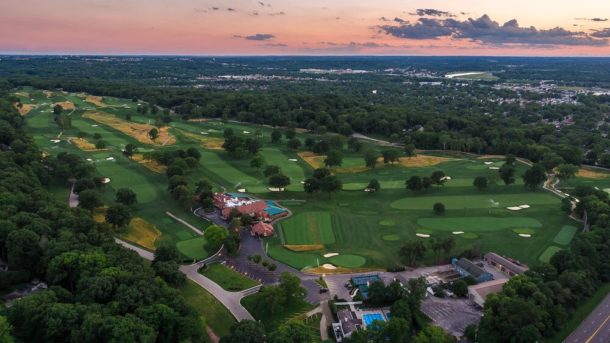 The Society is pleased to interview Keith Foster on his work at Moraine CC, one of the host courses in our May gathering.  Keith started out in 1985 working for Arthur Hills.  In 1991, Keith formed his own Design Company.   Keith has many solo designs to his credit, with the The Harvester in Iowa ranked 40th in Golf Digest Top 100 public Golf courses.  After 10 years of new designs, Keith gave up doing his own courses to focus on doing restoration work on 2-3 Golden Age clubs a year.  Keith spends 9 months a year on his Golf restorations and the other 3 months traveling the world buying Antiques for his Antique business.
I have been fortunate enough to have played 3 courses that Keith has done renovation/restoration on (Orchard Lake, Moraine, CC of Detroit).  Unfortunately, I haven't played the courses prior to his work and possibly can't appreciate their transformations as much as others.  Once I played Orchard Lake, I was hooked and that led me to Moraine CC (Kettering, OH).
The Society is pleased to be able to play Moraine in late May this year.  It's one of the two courses we will be playing for our Wright Bros Gathering.  Let's ask Keith a little bit about Moraine…
TWG- Well the Walking Society is very fortunate to be playing Moraine and Miami Valley in May this year.  What was your first impression arriving on site at Moraine, with the dramatic change of elevations on a course in Central Ohio?  Well I'm guessing a chainsaw was your first thought, what was your 2nd thought? 
My first thought was how wonderful the property was and the second, how charming to walk the length of the property to then return back to the clubhouse.
TWG-  What really impressed me with Moraine is the natural shelves that a fair amount of greens sit perched on.  Would you agree that the green site locations at Moraine, is the strongest attribute of the course? 
I love the green site and pads. They are wonderfully distinctive.
TWG- How in the world did the Club allow you to cut down that many trees?  I love it and think it's the Gold Standard for tree management.  I'm sure you have some good stories regarding opposition and hope you can share them with us.
Moraine is in my view really is no different than many great Golden Age courses that have had over the years, so many trees added and then added. The membership at Moraine was kind, receptive and supportive to its return to their wonderful origins. My job and responsibility is to convey the vision with integrity and clarity. I am thankful for their trust and confidence.
TWG- The bunkers at Moraine are true hazards.  A good ½ shot penalty for most of the fairway bunkers.  Were the bunkers originally that deep or did you add some teeth to them? 
I actually raised about a 1/3 of the bunker floors.
TWG- #'s 10-12 at Moraine sit on the flattest section of the property.  I happen to think the 10th hole is very good architecturally speaking and might get overlooked.  Behind the green is a nice shaved area, which makes for a nice back pin location.  Do these features get overlooked due to the great change of elevation on the other holes?
Absolutely!
The 10th and 11th were flattened out many years ago as I understand it. During our program, we reintroduced a few softer contour lifts but compared to so many of the other golf holes, those 3 holes are tame, topo wise.
TWG- The par 3's at Moraine, have really good balance with #2 & #11 being stout and #5 & #15 being short to mid irons.  The green sites at #5 and #15 are so good and one can just imagine ''the Nipper" walking the land grinning as he located these two sites on his routing. 
The 2nd and 5th are Nippers while the 12th and 15th are mine. Both the 12th and 15th had nothing Nipper about them remaining due to the greens being rebuilt in the 40/50's.  My hope was to recapture his intent on those 2 greens.
TWG- Let's discuss the interesting short par 4's (#6, #7, and #16), reminisce of the drive and pitch holes of yesteryear due to the downhill elevation.   I can see so many big scores on these holes, very difficult to hit and hold the greens from the rough.  Longer players have options to try and drive #7 or hit the 2 iron off the tee.  Fairways and green side bunkers are very deep and frame the fairways and greens so well.  Do many clubs and players overlook the great value in Drive and Pitch holes in your opinion?
In my humble opinion, we have become a game of sheer length and with this, we have lost the charm of finesse. I personally enjoy shorter yet compelling holes rather than the brutish ones.
TWG-  I have a bit of contention with the flattening/softening of Golden Age Greens to accommodate the modern greens arms race.  Lag putting is an Art/skill and is overlooked imo.  Are there any greens that you have softened that you later wished you hadn't?
Thankfully I have worked hard on my ability to soften greens in a way that maintains and honors original intent. I don't want to go to much into it as I am never one to talk much about what I do. I just get on with it and focus on great results. To me, my best work is if I can't tell I did anything. To me, that is great work. At Moraine, yes I did touch many of the greens but only where needed and did so softly. To me, green pitch and cant is a critical element to be very mindful of.
TWG- Keith, please share your thoughts on Moraine and what our Walkers in May should look for.  I'm sure I missed many points, so feel free to highlight what I missed. 
Don't think you missed a thing.  Moraine is a wonderful walk.  I love the green / tee connections which are among the best in the game.  The original ground forms are powerful and the scale at Moraine is impressive.  I am so thankful to have been given the opportunity to have played a part there.  Great Club, wonderful membership and a really talented Superintendent in Jason Mahl. And their pro, Brent Sipe….fantastic too.
Thanks again for your time!