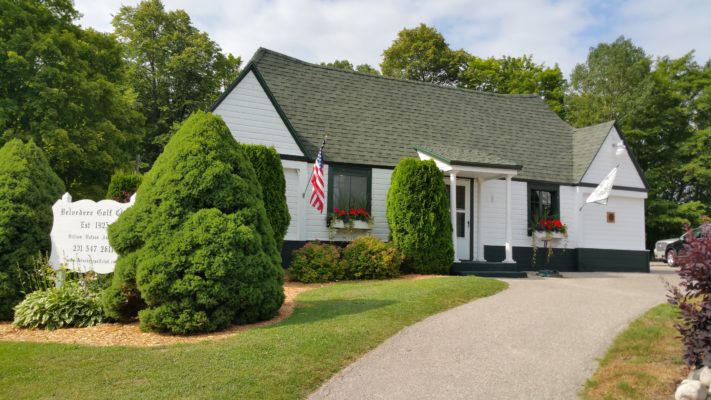 I am thrilled to be able to interview individuals that work at a Golf Course I love. Located in Charlevoix, MI which is close to the Little Traverse Bay, sits a William Watson titan, gem, all things great for Golf called Belvedere GC. Mr Watson used five teams of horses and 150 men to complete Belvedere and the course opened in 1927. William was involved with other great courses such as Minikahda, Orinda, San Diego, & Diablo.
We are going to ask Marty Joy (Head Pro), Jordan Caplan (Keeper), and Bruce Hepner (Consulting Golf Architect) some questions. Belvedere was private for a long a time and was made accessible to the public maybe 10 years ago. The members have the course daily from noon-2pm. For those of you who haven't been to NW MI, you are missing one of the most beautiful places in the world. The Golf shop is the coolest I've been in. In fact, I'd live in it in the summer, if Marty and my wife would allow me. Not only is it cool, they actually built functional buildings back then, on the back of the Golf shop folks making the turn can get the food item of the day. Belvedere ranks as the 8th best course in Michigan according to the Michigan Golf Architecture Society, (www.migolfarch.com)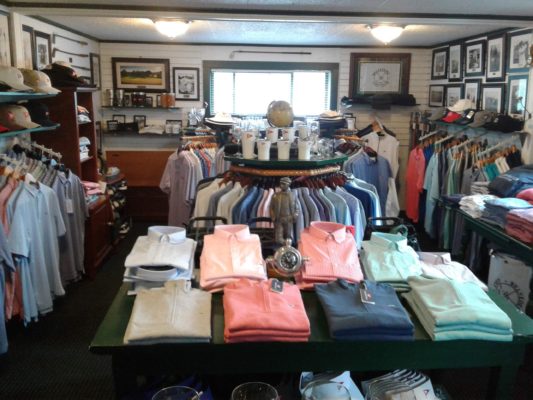 Marty- Actually, Belvedere Golf Club has been Semi-Private since 1933. When it opened for the 1933 season on Saturday, June 24, Belvedere opened its doors for the first time to the general public. The Stock Market crash in 1929 finally made its mark on the golf club in 1932 and the board decided, in order to stay financially viable, that they needed to find other sources of revenue to keep their course in good shape. You might think that June 24 was a late starting date for opening the golf season, but back then the golfing season was directly impacted by the opening dates of all the large hotels in Charlevoix. Mid-June was the starting date of the summer season for many of the large hotels and they would only stay open a week or so past Labor Day. FYI – "The Inn" in Charlevoix was the 2nd largest Hotel in the state of Michigan – located on the north side of Charlevoix and adjacent to the Depot and northside Charlevoix Golf Club, it was able to hold 850 guest and had a staff of 225. Only the Grand Hotel on Mackinaw Island was larger.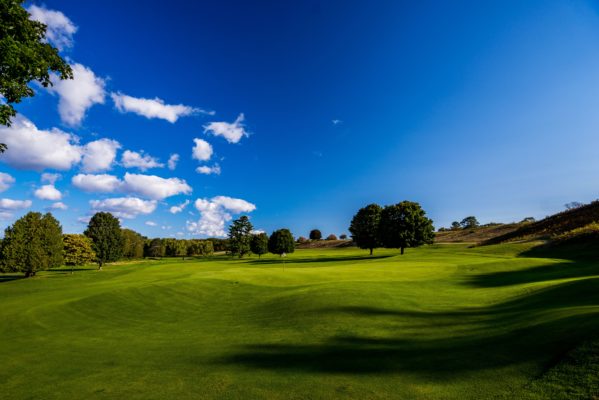 TWG- Belvedere has a lot going for it from a course perspective, but what I love most about it is the golf culture. The place has loads of class, without being pretentious. Marty, I don't know if it's spontaneous order or what is done on your end, but you seem to attract people that respect the game very much. Can you share with us some of your secrets?
When I officially took over as Head PGA Professional in 2009, I immediately utilized and exploited the historical aspect of the club. Belvedere Golf Club was established in 1925 and opened its doors for the first time in 1927. Since then, it has hosted 40 Michigan Men's Amateur Championships, the 1929 and 1930 Great Lakes Open professional tournaments, the 1935 Michigan Open Championship as well as several Michigan Senior Amateur Championships. All in all, there have been 40 Major Champions that have competed at Belvedere Golf Club with 181 Major Championships to their names. The pro shop walls are covered with photographs of these Major Champions and all are credited with brass plaques displaying their championships. Hagen, Snead, Jones, Sarasen, Armour, Hutchison, Casper, Barnes, Watson, Boros and many more litter the walls – it is historical museum of golfing champions. Like taking a walk back in time. Some people spend 30 – 40 minutes before or after their rounds just looking and learning about the Historical Belvedere Golf Club, all the while listening to the 40's music that encapsulates the experience. I believe only Oakland Hills in Detroit has hosted more Major Champions than Belvedere Golf Club (in the state of Michigan.)
We also host a National Hickory Championship every year and it is considered one the four "Major Championships" conducted by the Society of Hickory Golfers. All these participants use pre-1935 hickory golf clubs to compete for the championship. Complete with knickers and ties, these participants are all golfing aficionados with deep respect for the history of the game. In 2019, Belvedere hosted the U.S. Hickory Open and received national acclaim as having hosted the finest U.S. Hickory Open ever experienced by the SoHG.
Couple these features with a walkable William Watson designed layout that has been restored to its original design and you will attract people that respect the game of golf. In addition, understanding and being knowledgeable about your club's history is paramount when you are conversing with members and guests. As the club's historian, I am currently planning on and preparing for our Centennial book which is set to come out in 2025.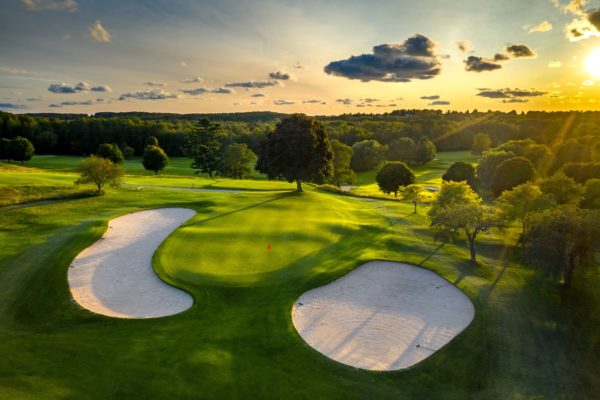 TWG- Bruce/Jordan, over the years I've become a tree snob and strict Parklands presentation proponent. Are there any plans to get rid of the cedar & willow trees on holes 2-6? I could see some (cut) accent grasses improving long range views and wind patterns. Are there any plans to add drainage on holes 1-6? They seem to play a little softer than the other holes.
Bruce- Forest management has been an ongoing program since I started consulting at the club. The lower holes were built from a natural Cedar Swamp, so most of what you see is indigenous growth. We will thin back the cedars and willows over time.
The drainage issues on the lower holes are chronic and we've put a few miles of pipe in the ground and more to come. The natural streams that drain the area are in constant need of clean out to get the water to flow off the golf course. The area is by nature a swamp, so it is a constant battle.
Jordan- Tree management will continue to be a priority for us at Belvedere. The most significant change to the architecture of classic golden age courses, such as Belvedere, has been the overplanting of trees and their subsequent impact on playability, aesthetics, and agronomy. Holes 2,3,5 were originally cut through a cedar swamp, these corridors have always defined that part of the routing. Some thinning will be in order. We are evaluating were such thinning would provide a spectacular view both from and up to the historic clubhouse. The origins of the word Belvedere is a term for a building with a view, it derives from two Italian words, bel, which means beautiful, and vedere which means view.
One thing we have done this past year is located hundreds of drain caps grown over with turf. Exposing these have had an impact in better utilizing our current drainage. One feature of the holes 5 and 6 is a drainage ditch along the left OB stakes. These ditches were intended to keep water from entering the course but also provide an outlet for course drainage. We will continue to evaluate drainage but making sure these ditches are clean and functioning is the first step. Similar success with this can be seen on holes 15 and 16.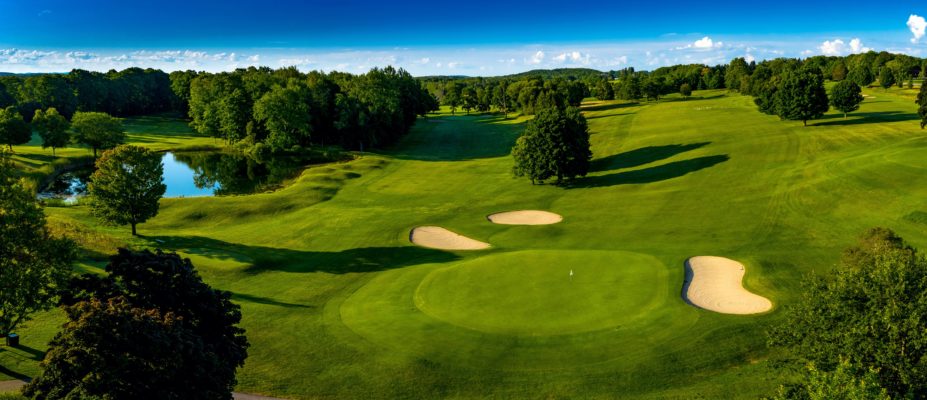 TWG- Bruce/Jordan, the greens reclaiming I saw this year was really well done. The green complexes as a set have really gone up in my estimation over the years (13 is awesome!). In 2016, with the demolition of an old building in downtown Charlevoix led to the finding of the original William Watson plans. How many Watson bunkers were restored? The creek is a great natural feature that has benefited from tree removal. Can you share with us the exiting journey of implementing your newly found treasure?
Bruce- Well, we have been restoring the golf course for over 15 years using common sense and the old aerial photo, so the newly found plan validated what we have already been doing. We had to pick and choose what bunkers to put back that would be relevant and cost effective. We removed a couple of non-original bunkers that effected run up approach shots and restored 5 or 6 bunkers. A hand full of existing bunkers were restored to original sizes and brought more into play.
Jordan- The work Bruce Hepner and Rick Grunch did to restore the original green pads was phenomenal and they have grown in nicely after a few years. The green committee has adopted a mission statement in which we will continue to honor the vision William Watson set forth when designing Belvedere. With the plans and the expertise of Bruce we are evaluating future work. When making decisions you must evaluate what is no longer pertinent to the modern game, additional maintenance required, and impact on playability for all levels of golfers. We will continue working to get it right. It is an exciting time to be golfing Belvedere, and we are looking forward to our 100-year anniversary and the return of the Michigan Amateur in 2025. Some might say finding the plans and the work completed has made Belvedere great again, the truth is Belvedere has always been great!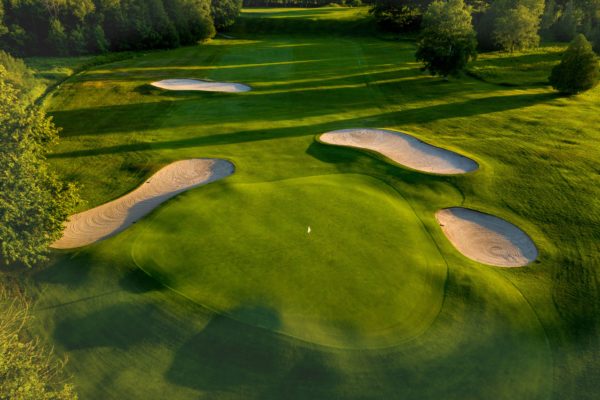 TWG- Belvedere has a great commitment to hickory golf, hosting an annual hickory tournament. The fellowship among the membership seems really strong. Marty, with 44 of your members playing hickory golf regularly, has that helped to strengthen the camaraderie among the members?
Marty- We do enjoy having the largest hickory membership in the country. The camaraderie amongst the membership has always been strong at Belvedere but with the introduction of hickory golf to Belvedere in 2006, it has opened the door for non-members to join in. Like you said in your opening question, Belvedere is a place that has loads of class, without being pretentious. This starts with a membership that welcomes and wholeheartedly embraces the Hickory Open at Belvedere. We get anywhere from 60 to 120 (the 120 at the 2019 U.S. Hickory Open was the largest field ever to ensemble at an Open) participants from all over the country and the world to attend the Belvedere Hickory Open. The love of hickory golf trumps all the social and economic divides that might otherwise fraction a varied group of people. Belvedere Golf Club opens the entire club for the participants of the hickory open, and everyone is treated as a "Member for the Week" complete with access to the clubhouse and locker rooms, attentive service from both the golf staff and wait staff and accompaniments and trimmings that are not ever available at other hickory tournaments. We put on three very generous and lavish evening parties that makes the camaraderie and fellowship for both the participant and the spouse impossible not to appreciate and enjoy. Not to mention competing on a 1925 golf club that was built in the hay day of hickory golf.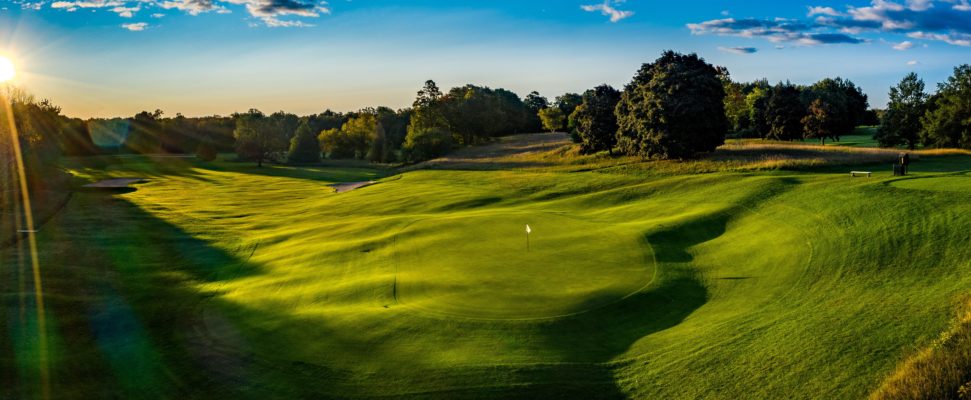 TWG- Jordan Caplan (the keeper) just completed his first year at Belvedere! Jordan, what are some of your long-term agronomic plans as you continue to get the playing surfaces in line with the strategic design intent?
Jordan- We are looking to refine our agronomics with a focus on weeds, trees, drainage, and playability. Attention to detail is what sets a course apart and we strive to offer an above and beyond golf experience.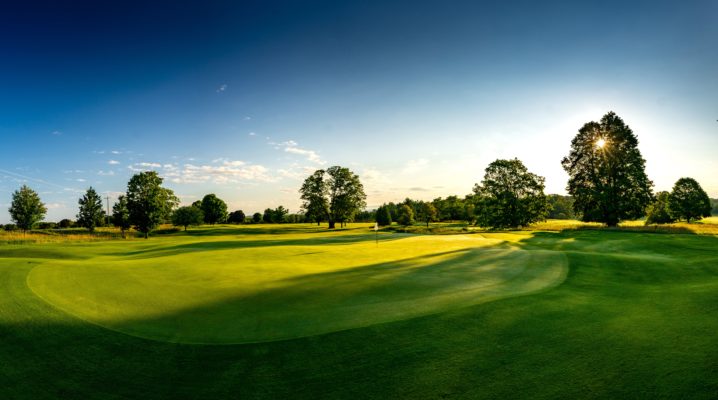 TWG- Bruce, do you have anymore work yet to finish? Can you explain all the work you have done thus far? What is your favorite part of doing consultation work with a club like Belvedere?
Bruce- As said previously, we've been at restoring this great club for years. The most significant aspect has been the expansions of the greens, surrounds, and fairways. Short grass has really brought the great design back to life. The green complexes are amazing and extending the collars/chipping areas have only highlighted Watson's genius. I visit the club many times a year to either play or consult and we are constantly tweeking all aspects to make the course the best it can be. It's a great joy to work at Belvedere because the membership and the staff know exactly what they have and are willing to do whatever it takes to continue to make the club great. As a consultant, you can't ask much more than that. Plus it's only 45 minutes from my house!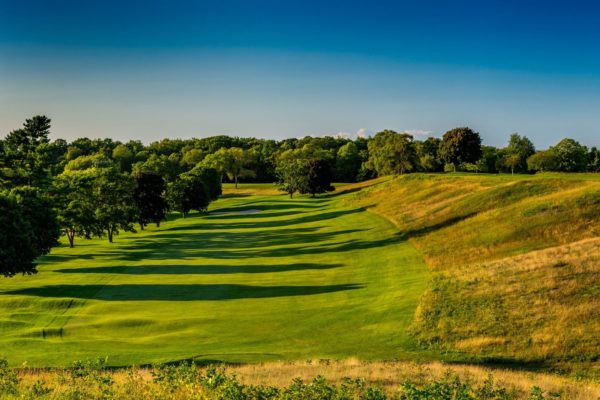 TWG- There seems to be an under appreciation of the front nine at Belvedere from folks I talk with (not me). The holes are very good from a strategic standpoint (does anyone care about that?), so my guess is because they are flat and potentially the cedar/willow trees detract visually for the Twitter photo bomb golfer. What do you three & the members think regarding preference of the two nines and why?
Marty- I could only guess that the topography is relatively flatter on the front nine than the back nine. This might be the reason some people choose the back nine as the more photogenic. Actually, the front nine's slope and rating has it as the tougher of the two nine holes. The front has more hazards and is a much tougher driving nine than the back. With the meandering creek, the tighter fairways, and the toughest par 3 anywhere in northern Michigan, the front nine is very formidable. If you can navigate the first 6 holes without a lost ball or a double bogey, you are on your way to a very decent round. The back nine is a little more freewheeling especially when it comes to driving the golf ball. If you can keep you ball in bounds off the 10th tee, you really feel like you can let the shaft loose the rest of the nine. The 16th, 17th and 18th holes are some of the toughest finishing holes you will want to experience – especially in the match play format of the Michigan Amateur Championships.
Jordan- I view the entire routing as a great test but would highlight the make-or-break stretch of 16,17,18 as one of the best finishes in Northern Michigan.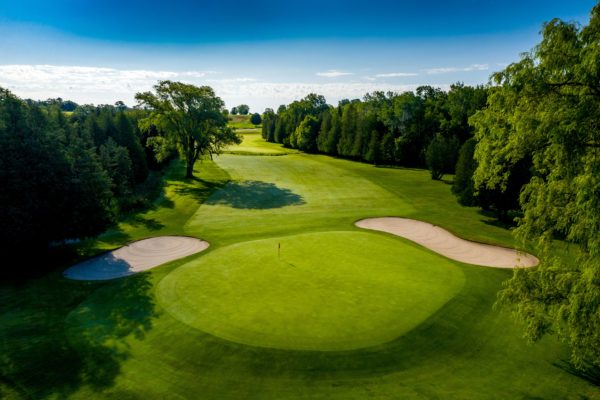 TWG- Marty, explain the process of what led you to allow public access? From your website it reads, "Like many of the great clubs of Scotland & Ireland, who allow outside guest play, historic Belvedere GC follows in those same footsteps." Was it a financial or for the good of the game decision?
Marty- Belvedere Golf Club originally was established as a private golf club for the members of the Belvedere Summer Club and the guests of the Belvedere Hotel. The stock market crash in 1929 was the main culprit in opening the golf club up to outside play. Although not immediately effected by the Crash of 29', the Belvedere Golf Club did decide to open up for outside revenue in 1933. For the longest time, Belvedere was believed to be a private golf club. Even long-time residents in Charlevoix believed it was a private golf club. Only in the last 15 years have we started doing some calculated and targeted advertising for the golf club. Many of the Belvedere Golf Club members do not come north for the summer every year. Some members I only see once every four or five years, so to supplement revenue, we welcome outside guest play. Guests receive the same friendly and personal service that the membership experience and they are encouraged to return as often as they like.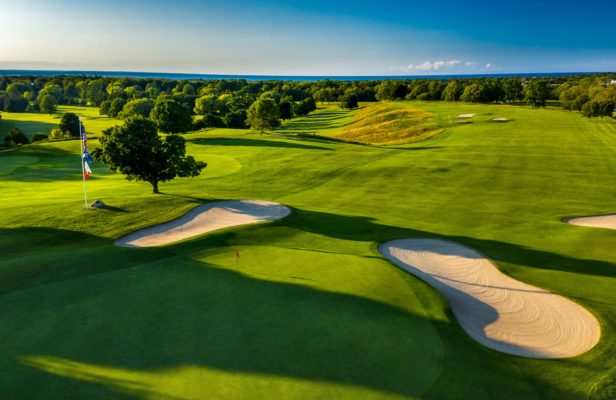 TWG- Is Belvedere, William Watson's most preserved course?
Marty- Having studied William Watson and the golf courses he designed for the past 10 years; I would say that Belvedere Golf Club is the most preserved Watson course in the U.S.   Other courses like San Diego Country Club and Orinda Country Club have embraced the William Watson name and his influence on their courses.  But tweaks have been made at these clubs and various other architects have had a hand at changing the Watson design – although not too much.  At Belvedere Golf Club, with assistance from a pre-World War II 1938 Defense Department aerial photograph as well as finding the original William Watson architectural drawings, we have been able to put together a plan to get the course back to its original design.  Bruce Hepner has been instrumental in guiding us on how to do this and with a willing and excited membership we began the restoration of the golf club in 2016.  Today it is almost a complete copy of what Watson envisioned in 1925.  Minus a few unnecessary bunkers that are out of play and simply additional maintenance expenses, the entire routing, greenside bunkering, and green contours are restored.  Belvedere Golf Club, I believe, is the only Watson golf club that still has the original Watson designed greens intact.   Over 95 years later, these are the original contours and grasses that William Watson built in 1925. 
Jordan- I can speak for myself and our membership and say it is certainly our favorite William Watson course.
TWG- Belvedere has hosted the Michigan Am 40 times! It also is where Tom Watson vacationed with his parents every summer. Tom considers Belvedere one of his 3 favorite courses. Can you tell us any Michigan AM and Watson stories?
Marty- Belvedere Golf Club has hosted the GAM Michigan Amateur Championship 40 times and the 41st time will be in 2025 – our centennial year. The golf club to host the second most Michigan Amateur Championships is Saginaw Country Club with 8 times as host. Chuck Kocsis, Michigan's Golfer of the Century, won his first and the first Michigan Amateur Championship hosted at Belvedere in 1930. Kocsis would go on to win 6 Michigan Amateur Championship only having entered the championship 7 times. From 1962 to 1988, the Michigan Amateur Championship was hosted at Belvedere Golf Club every June. In 2003 and again in 2014, the Michigan Amateur Championship returned to Charlevoix and the Belvedere.
Tom Watson and his family summered in the village of Walloon Lake almost every year since Tom was a small boy. They rented a home every summer at Walloon and Tom would walk the 9-hole Walloon club daily. When Tom's father, Ray, wanted to play golf, he would go to the historic Belvedere Golf Club in Charlevoix. A championship 18-hole golf club, Ray would bring along Tom to hone his game. Tom really enjoyed playing at Belvedere Golf Club and it is because of his boyhood memories that Belvedere makes it on to Tom's top three favorite golf clubs in the United States. Behind Augusta National and Pebble Beach, Belvedere is number three on Tom's favorite golf clubs. A Belvedere Member today, Tom Watson still makes occasional visits to Belvedere, although it has been several years since his last visit.
As far as Michigan Amateur stories go, probably Sports Writers Terry Moore & Greg Johnson would have more stories than I. Vartan Kupelian just passed away and I know he had lots as well as Jack Saylor would have too. Remember that from 1963 to 1988 the amateur was at Belvedere every single season. From qualifying to the actual championship, everything was out of Belvedere and the town of Charlevoix. Contestants spent the entire week at Belvedere and win, lose or draw they stayed the whole week. Dan Pohl won twice in 1975 & 1977 before turning pro. Peter Green won 3 of his 4 championships at Belvedere – all in different decades. Glenn Johnson, Melvin (Bud) Stevens, Lynn Jansen, Steve Maddalena & Randy Erskine all Michigan Hall of Fame Golfers won their championships at Belvedere.
On every visit that I have witnessed at Belvedere, Tom Watson has walked & carried his own bag. We never tell anyone when he is coming or where he is on the golf course. He is just another member at the club, visiting and remembering all those shots he hit as a kid. It was a special place for Tom and today if you mention Belvedere Golf Club to him as he is walking by in a gallery, Tom will stop and want to know how you know about Belvedere? I have a photo of Tom Watson in the golf shop from 1982 taken in late June – smokes in his white front shirt pocket. Watson had just holed out on the 17th hole at Pebble Beach to beat Jack Nicklaus for the U.S. Open a week earlier and would go on to win the Open Championship at Royal Troon a month later but meanwhile Tom made a trip back to Belvedere – for a round at this favorite course.
Jordan- I listened to a recent podcast where Tom spoke of prior to his father passing away they played their final round together at Belvedere. To me that is so special.
TWG- Marty, do you take groups of golfers out to play and discuss the positive changes happening at Belvedere and how they benefit the game as a whole?
Although I would not mind doing this, I rarely have time to play golf myself much less take groups out on the course. That is more or less something saved for a green committee meeting or a reporter or a writer.
Thanks to Marty, Jordan, and Bruce for taking their time to answer some questions for us. Belvedere just keeps getting better every year I visit. I love being able to play a 3.5hr round when heading off at 8am. It was really busy in 2020 and looks to potentially become permanently that way. Which reminds me of the Seinfeld episode where Kramer starts swimming in the East River, and a few times later all these people start swimming laps and he is getting kicked in the face while swimming and he says, "find your own river to swim in"!